Upcoming! Mindfulness-Based Stress Reduction - Winter 2024
To Inquire About Private Instruction, Please Visit the Bio Page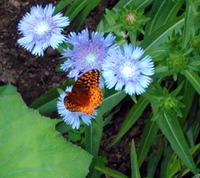 What is mindfulness?

To read our most recent newsletters click here.
To read about the many benefits of mindfulness, please visit our Readings page click here.
Mindfulness is a way of learning to relate directly to whatever is happening in your life so that you can experience greater vitality and well-being in the present moment. Pain, whether physical or emotional, tends to force our attention to contract. Rather than thinking about what may lie ahead or events from the past, Mindfulness-Based Stress Reduction is an educational program that offers a way of living more skillfully which can help you expand your awareness, discover choices where none were seen before, and live your life in a more deeply satisfying way. It is a way of doing something for yourself that no one else can do for you. It teaches an approach for systematically transforming stress, whether from pain, illness, or the challenges and demands of everyday life.
Spring 2022 MBSR Newsletter "Ukraine"
New Jersey Psychological Association Dec. 2016 e-newsletter: "Why Mindfulness Matters" edited by Dr. Diane Handlin
Understanding and Managing Your Stress
Stress is a frequent part of our complex lives. It often results from trying to juggle multiple responsibilities and relationships. It can also arise as a result of pain or illness and can heighten discomfort and suffering. Stress affects people differently. Sometimes we may not even be aware of feeling stressed until we find ourselves suffering physically or psychologically. It is a symptom that may signal that we are off balance and have lost some of our innate ability to experience contentment and well-being.
The core of the Mindfulness-Based Stress Reduction (MBSR) Program is mindfulness meditation and its integration into the rich potential of everyday life. This course provides a supportive environment where participants can learn to:
Recognize signs of stress
Learn relaxation techniques
Discover how thoughts can help or hinder stress management
Cope more effectively with stressful situations
Decrease psychological suffering
Reduce pain and cope with pain that may not go away
Develop new responses to sleep disturbances and fatigue
Communicate effectively
Build self-confidence
Tap into greater energy, well being, enthusiasm and appreciation of life
People participate in the MBSR program for conditions as diverse as
stress: job, relational or financial
anxiety and panic
sleep disturbances
heart disease
irritable bowel
cancer
depression
muscle tension
fatigue

chronic pain
high blood pressure
headaches
skin disorders
asthma
headaches
complex medical conditions that would benefit from a complementary approach
(Although Dr. Handlin is a licensed psychologist and was the first person in NJ Certified to teach MBSR and has a psychology practice, please note that MBSR is an educational course for those interested in developing mind-body connections. MBSR is a non-psychological service offered apart from Dr. Handlin's psychology practice and is not meant to substitute for personal or professional psychological advice.)